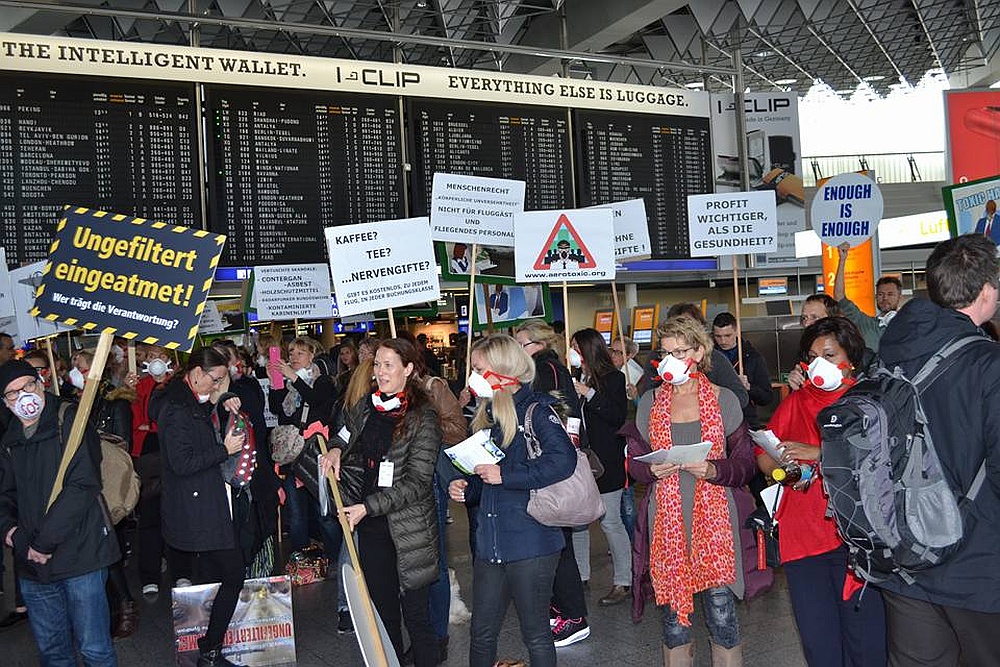 On April 28, 2017, crew members who had been injured and contaminated by contaminated cabin aircrafts, and who were still actively engaged in aviation, were already calling for a demonstration of non-toxic aircraft air from all over Europe.
In the grouping of the shoulder, representatives of the aviation-specialized trade unions (including UFO eV, Verdi eV), relatives of pilots and flight attendants, physicians, founders of foundations and also family members of partially seriously affected crewmembers, with the members of the demo registered, non-profit "Intenationalen Verein für Umwelterkrankte eV" : "Stop contaminated cabin air!"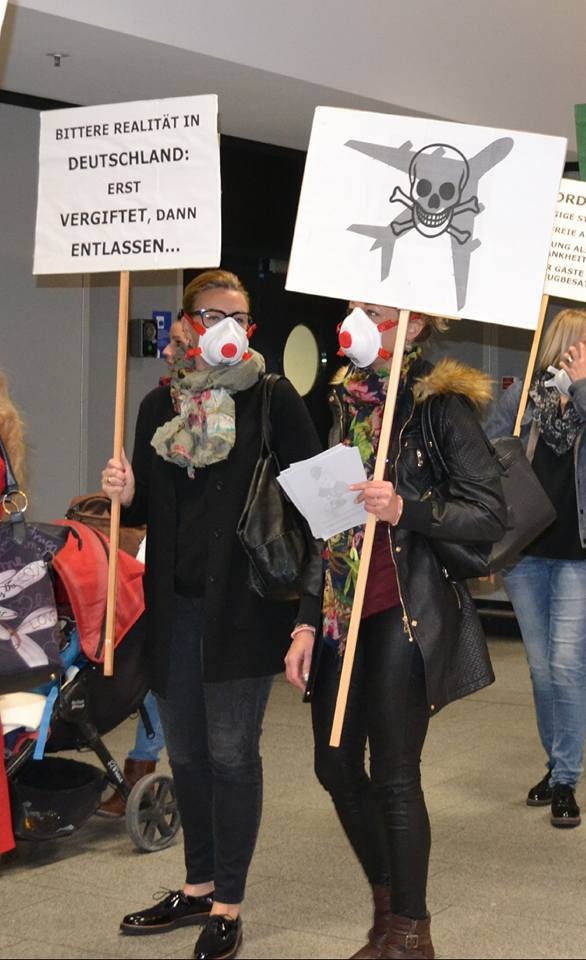 The fact that nerve pains in passenger aircraft, aircraft inmates can bring to life, too often brought, and that there are already too many damaged crew members and passengers, was doubted. People who were present, posters, flyers, pictures and even personal fume event descriptions of crew members spoke for themselves, according to a press release from the association.
According to the parties, the parties were given the chance to have uncolored perception. Statements which aviation companies and the sponsored "experts" claimed in the past in numerous public publications did not coincide with the factual situation for which those present stood out, emphasized the numerous persons concerned.
Participants and passengers passing by the demonstrators were able to listen to the experiences of flight attendants and pilots. They heard about the heavy fates that enabled people from one day to the next to no longer be able to pursue the most common and previously simplest challenges. Crewmembers who were moved because they had to learn how bad it was and is,
Permanent or temporary flight crew members, who are threatened by the threat of dismissal due to illness and who are fighting windmills. In accordance with organizers, international experts from a wide range of medical, occupational and toxicological disciplines, as well as neurology, have all been diagnosed as accidents at work, resulting in chronically related symptoms and consequences such as paralysis, tremor, numbness, lung, heart, brain and nerve damage And pulmonology.
This made it all the more unintelligent for those present that no employer, insured or even politicians had received any official recognition. The more closely you listened and looked, the more voices became loud, Who suspected a systematic of all denial and rejection. The organizers also asked the following questions:
Why are preventive measures still avoided?
Why is there still a lack of adequate training to deal with incidents due to hazardous workplaces?
Why are accidents and occupational diseases increasing, even though the "fume-event" accidents are experienced and documented?
What is behind the discrepancies between the reporting figures, the results of the investigations, the aeronautical group-sponsored measurements and unbiased research results, disagreements in terms of responsibilities and responsibilities, and various other inconsistencies that might indicate that it could be a "play on time"?
Such and similar questions, the demo participants presented themselves.
Are there case cases, for example, of short-term and long-term injuries, which may not exist, because recognition of the causes and effects could be equivalent to a school-confinement, and could therefore also speak against political acceptance?
After talks, press dates and information pauses, demonstration participants walked slowly through the airport building Rhein / Main. They were images that left their breath. Visually affected by folders and the police, who were visibly affected and interested in reconnaissance and change, they distributed flyers, spoke to passengers, and gave journalists present answers to questions that gave quite different impressions on the importance of the demonstration grounds.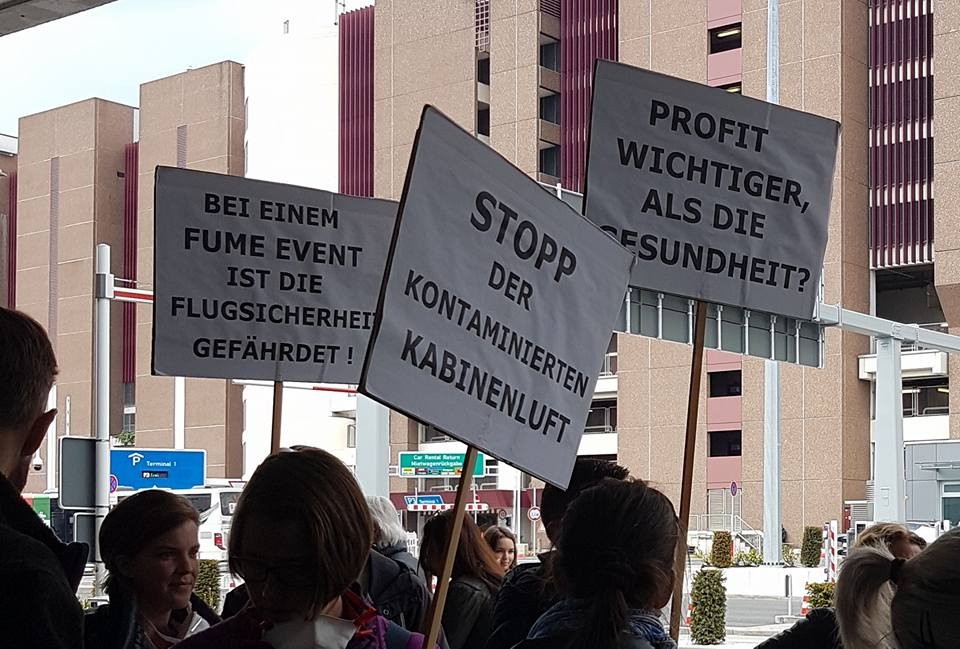 Moving human destinies raised the question: What could be waiting for? Regular and daily new incidents occur. Time breaks and safety landings are always taking place due to Fume events.
Aircraft occupants are recurrently affected by toxic cabin air, which is usually completely unprepared and helpless. Pilots who are incapacitated, have to draw up oxygen masks and report that they have little to know how they should land the machines.
It can not go on like this. In this respect, all participants and supporters agreed. "Safety first" means the motto for which crew members are to act and decide on board aircraft. The audience proved precisely this conviction and attitude and positioned themselves for this.
Now, indeed, the employers, insurers and even authorities are in demand: Policy must act!
One might think that those in charge of politics and the aviation industry are on a temporary basis, and that the "problem" can be solved by itself, if only long enough to lay the cloak of silence over it and sit it out. But what is supposed to change by allegedly inadequate (non) action? Asked the affected parties within the framework of the demo.
The "avalanche rolls", so it looked and the concerned from domestic and foreign were and are agreed: "We will let the avalanche roll further and it will surely become bigger and more powerful."
Further demos have been envisaged because the extent of injustice defied by deficient care and prevention, such as the participating parents and also by cabin harmful substances Poisoned, Is no longer permitted to run out.
The people who were affected by the events were boldly exposed to the public, pointing to grievances such as the closing of the only "Fume-Event" talks of the environmental medicine Göttingen. Under the aegis of Dr. Heutelbeck and its network partners, the latter has objectivized the typical symptoms of poisoning by airborne and non-toxic toxins in over 400 affected passengers and crew members. To this end, four affected persons initiated a petition, which today could win over 72,160 signatories.
Jointly asked for information, assistance for those affected, recognition of occupational accidents and occupational diseases resulting from exposure to cabin air pollutants, and a departure from zapfluftbetriebenen,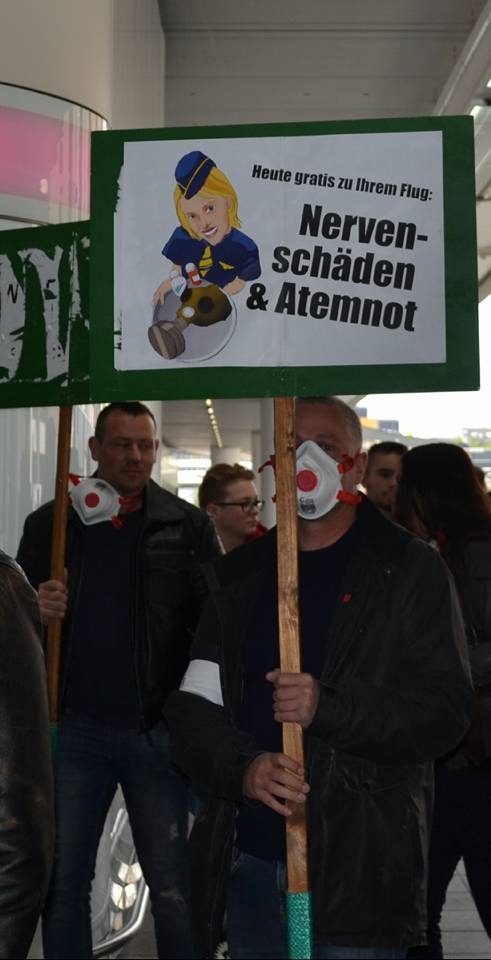 UFO eV also positioned itself against the contaminated cabin air on 28 March 2017 with the demonstration organized by them.
Now there is only the action of those who can actually tackle the problem at the root. Politicians of all parties, as well as those in charge of all aviation groups, are called upon and asked to take seriously the needs of their employees, voters, insureds and also customers and, at best, to follow the demands of around 150 demo-drivers.
The "fume-event" incidents occurring every day and around the world and their impact on aircraft passengers do not justify a delay, because they are sufficient. People, whether young or old, whether worried or unsolved, whether frequenters or crew, Who were healthy in an airplane, went out sick, and were never able to regain full health. They were there.
(Red / IVfUe / Photos: ZVg John Hoyte / Aerotoxic.org)